I'm reviewing things out of season, yet again! This was an Asia-exclusive quint that was part of the Spring 2008 Flower Blossom collection.
This is my first foray into Dior eyeshadows, and I have to say, I'm hooked! The colors in this palette are totally me. Courtesy of
Jojoba's
reviews on Dior quints, I'm also lemming the Summer Star and Golds quints, but I'm
never
going to find them, of course haha.
"But hey! There are similar quints out there!" Don't care. "But there are dupes of the shades in those quints everywhere in other lines!" No thanks. Sometimes, you just want the "real thing" if ya know what I mean. ;-P
Anyway, on to Pink May - my love.
Alright, let's get the superficial stuff out of the way first:
1) "Velvet" pouch.
1/5
Certainly not the best quality pouch. It's rather thin, and attracts way much lint. But oh well, I suppose it serves its purpose.
2) Casing.
5/5
First word that came to mind when I saw this -
hmm, luxury.
Second word -
sturdy.
Excellent, excellent. I especially love how the holographic CD shows up - it's like you're staring into the abyss of the ocean - hoooo! Nice. Relatively speaking, Japanese makeup packaging, while super-cute, is altogether a different thing.
Here's an analogy: Dior is like a piece of the
richest red velvet chocolate cake
, and Coffret D'or (for instance) is a
strawberry cupcake with sprinkles
.
Right so, since 909 Pink May was limited edition, and I had to purchase it from a lovely gal who sold it to me for a very good price. Unlike on Ebay - someone was selling it for $70?!! Crazy.
3) Tools.
5/5
Applicator softness is at par with Japanese applicators. (Who makes the absolute BEST spongetip applicators? Shiseido Integrate!)
4) Texture
5/5
Really really soft and smooth - takes a second to blend. Much softer and more tightly packed than a lot of high-end Japanese eyeshadows, I must say! (For instance, Coffret D'or is bit more powdery, Jill Stuart is even more so.) Very very fine sheen - no sparkle bits!
3) Shade Suitability.
5/5
These colors would work on most skintones. Not too warm or cool. Not too bright nor dull. I love this for a pin-up look: subtle definition on the lids + winged liner. Perfectly flirty.
4) Pigmentation
.
For me: 5/5 For others: 1
/5
Look at photo above for accurate representation. They swatch true to the color in the pan - light shades! If you don't like light shades, stay away. The bottom right purple is a medium shade, and works well to define the eye.
4) Shade Range.
3/5
Again, I use light shades on my lights, so this gives me a choice of 3 lid colors. And the purple is dark enough for my crease. :)
My only pet peeve about this palette -
no dark shade
. I use deep shades for liner, so it's kind of annoying to have to pull out a different palette for it. I don't use dark shades on the my lids, but I can imagine for you gals that like to transition into evening, you'd have to use another shadow from elsewhere in your collection to deepen the look.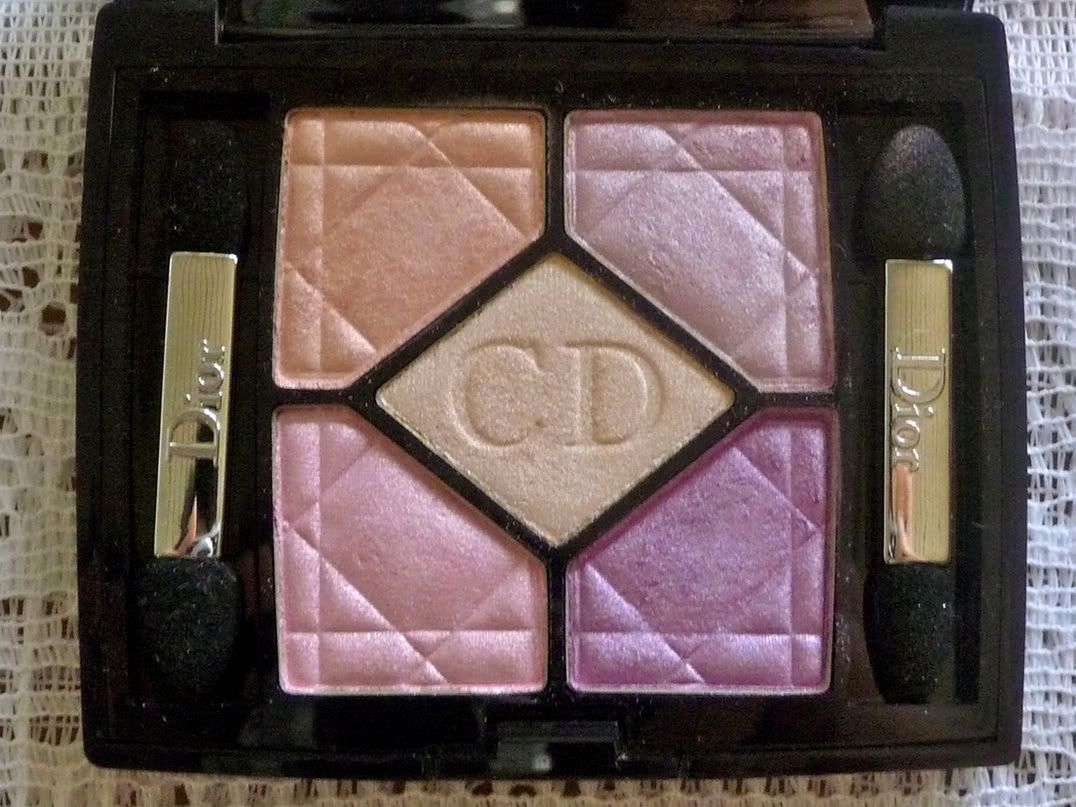 5) Lasting Power.
4/5
Make sure to use primer. A little creasing/fading on the inner lids after 5 hours of wear, but not very noticeable.
Overall. 4/5
[+] Beautiful shades, texture, wearability, packaging.
[- ] Lacks dark shade, a little creasing/fading at 5 hours.
Subjective Conclusion: This is a keeper for me, simply for its shades. I dare you to find a prettier Dior quint! ;D But for those with too many similar shades - stay away! ;)