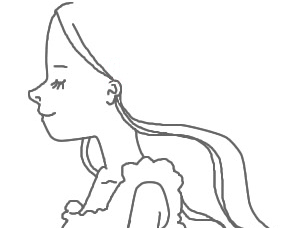 I started this blog on May 10, 2009 - right before a major exam (which is the best time to blog, no?). There's no particular reason for the 'Miss Wiggle' pen name. My full-time job = medical student. This blog serves as both an outlet for my wayward thoughts and an anchor for my sanity.
FYI for current readers and followers: this blog is undergoing an identity crisis, meaning it has no real direction. Right now, my only goal is to write as often as I can about whatever strikes my fancy at any given moment.
Email: miss dot wiggle@live dot com

Popular Posts
After trying both Lancome Teint Miracle and Bobbi Brown Skin Foundation, I have decided that liquid foundation is just not for me . Liquids...

UPDATE:  I just can't shake how *dry* this looks on my skin. My SO asked if I wanted water because he's never seen me looking PARC...

I hit pan on all 2 or 3 of my foundations, so I went to Sephora to find my next love. I tried all the popular ones - MUFE, Diorskin, Hourgla...

Hope everyone had a fun and restful holiday season!  Did you all get to take advantage of the Thanksgiving and Christmas shopping deals? ...

Hello, everyone! I'm so sorry I've been a bad blogger. Recently, I won Mel's giveaway , and felt compelled to post something ...

UPDATE:  Well, in the end, this foundation went back. I still think it's a good foundation - great coverage, lasting power, shade match...

Are you sick of Laura Mercier, yet? ;)  I know some of you might be wondering why I'm reviewing a foundation that's clearly meant fo...

Hey y'all - since I'm back from my age-long absence from blogging, I thought I'd show you some things I've purchased this sc...

Oh. My. It's been almost a year since my last post. The 2 people who have unsubscribed to this blog since I last checked deserve pr...

Review
(22)
Other
(16)
Haul
(15)
Swatch
(14)
Base Makeup
(11)
Skincare
(11)
Shiseido
(7)
EOTD/FOTD
(6)
Kevin Beautymaker
(4)
Laura Mercier
(4)
Lunasol
(4)
Coffret D'or
(3)
Esprique Precious
(3)
Hair
(3)
Bags/Accessories
(2)
Giveaway
(2)
NARS
(2)
Nails
(2)
Paul and Joe
(2)
Swap
(2)
Burt's Bees
(1)
Christian Dior
(1)
Fashion
(1)
Integrate
(1)
Jill Stuart
(1)
Lavshuca
(1)
MAC
(1)
My HG's
(1)
Product Rave
(1)
RMK
(1)
Shu Uemura
(1)
Stila
(1)

Blog Archive