Gah, I'm still waiting for something in the mail! It's taking forever, so I'll just do Part 2 without it. I've already used all of the products below~
First are some masks from Sasa. From the brand Kuan Yuan Lian. Here's the
Sasa link to their stuff
. These are paraben-free, and super-inexpensive too!
I tried the Moisturizing one last week, it's great! Some MBD masks irritate my cheeks, but no problems with these! It really calms down the redness~ LOVE~
Hisamitsu Eye Mask - not a huge fan. It did hydrate my eyes very well, but it irritated the tops of my cheeks. I'll try this again next week and see if I get the same reaction.
I needed some color bases that were 1) inexpensive, and 2) comes in cute packaging. Stila Shadow Pot Mousse to the rescue! These are discontinued, so I found them on eBay. So far, I really like them! :)
Lastly, the Shu Uemura Glow On Blush in P Peach 42. I wanted it immediately after I saw this video, from a Korean makeup artist: you HAVE to watch the following video! She uses the Shu blush at around 4:34.
Isn't she amazing?! I want everything she uses in every video LOL~ Here's the blush/highlight. No swatches, because it's pointless. It's everything I wanted in a brightener - almost matte and glowy!
In my last haul, I promised to list some eBay sellers I've bought from in the past. There are a lot of great sellers on eBay, and here are a few:
I usually check for a large number of feedbacks, 99%+ positive, and how many of the item they've already sold. Disclaimer: I'm not trying to promote these sellers. If you experience problems with them, don't complain to me please - all issues should be reported to eBay. :)


.~.~.~.~.~.~.~.~.~.~.~.~.~.~.~.~.~.~.~.~.~.~.~.~.~.~.~.~.~.~.~.~.~.~.~.~.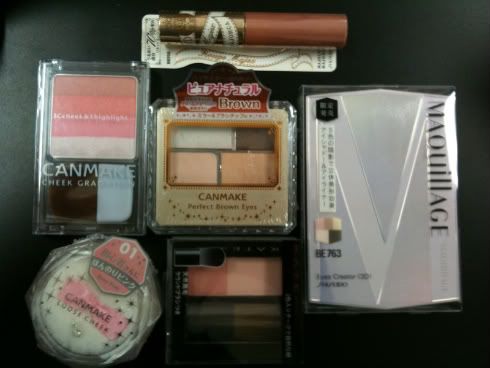 OKEE! HAVE A GREAT WEEK EVERYONE!!!